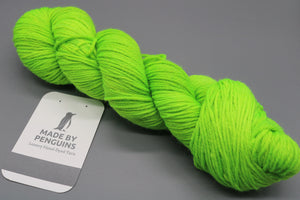 Like Green?

Do you want to make a witch or frog or something for halloween - well this yarn is about as green as green can get and is perfect for your spooky creation.
Due to the way this yarn has been dyed there is more variations between skein
100g/200m 100% Extra-Fine Merino (21m) .
About Made By Penguins

Made By Penguins Yarns are an artisanal product, created with love and care by disabled maker Lisa-Lou in her Made by Penguins Studio in Hampshire. Hand-dyed in small batches, there may be some variation between skeins. To ensure you purchase enough for your project, contact shop@madebypenguins.co.uk. When washing your finished product, follow the care guidelines.