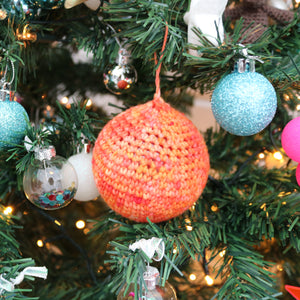 IMPORTANT NOTE: If you are purchasing items that require shipping please order downloads seperately. It is currently causing an issue that will delay your order.
 DOWNLOADING: when you download on an iPhone in safari or Firefox an arrow will appear at the top right of your screen you need to click on this to access your pattern, your pattern is on your phone if you can't find the download section search on your phone for Bauble to find your pattern.
Lets Make BAUBLES
We use a 3mm crochet hook with our Extra-Fine Merino yarn to create our DK baubles.

It's what you will find inside our DK Bauble Decorations
You need the material to be tight but with some stretch, you want only small gaps so you may need to adjust your hook size or tension. 
If you want to make extra baubles you can purchase plastic or foam forms from most hobby stores, you will need 80mm ones. If you decide to use stuffing you will want to stuff your bauble very firmly.
Please note this is a rewrite of our 4PLY Charity Bauble Pattern, which you can find here. If you enjoy this pattern then please consider donating to charity by purchasing our 4PLY Bauble for £1
We would love to see photos of your baubles on your tree, in progress and in all yarns so please do tag us on social media!
@made_by_penguins
#MBPBaubleProject
Happy Crocheting